App of the Week: Pintasking
Move over, Apple, Android has arrived with its own multitasking app called Pintasking, that creates bubble shortcuts on the homescreen allowing users to switch between favorite apps and webpages, quicker. The app was launched last month and has since seen positive reviews.
Pintasking uses Facebook Messenger-like bubbles which will stay in the corner of your screen or anywhere else according to your preference. You can pin apps and documents of your choice and switch between them with ease. You can even pin an app by pulling down the notification drawer and tapping on the "Tap to Pin" option. Once you choose the apps and websites you want pinned to your homescreen, the bubbles will appear on the right edge which you can reposition to your choice.
Basically, the app works like a Windows taskbar that allows you to quickly access those applications that you use most often. You can have apps like Google Hangouts and Android Messenger pinned right there for you to switch back and forth. Another way to pin apps is by tapping and holding the Home button and dragging it up (an action that usually launches Google Now). You then open the setting of Pintasking and customize your pins. Once you've set it up, you can switch between two or more apps by pulling up the Home button. It works kind of like the Alt-Tab on Windows.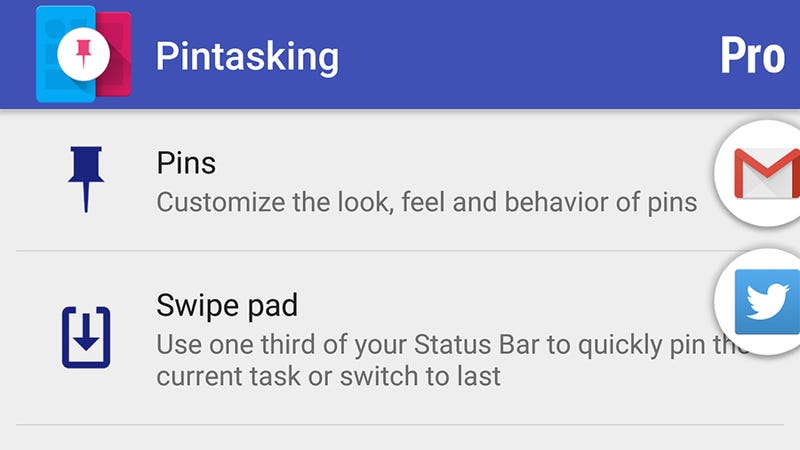 While the free version allows for only two pins and limits the way you want them to appear on your screen, it's still enough for you to check out whether the app is worth your time and money in case you wish to go for the full features. Though Android already has a fast app switcher, we think this app adds an extra bit of speed which is always welcomed for smartphone users. You can download the app here and let us know whether it eases the way you use your phone or not. The app works on Android 4.1 and above.