Apple iOS 9.3 to bring big changes to iPhones and iPads
Apple today has released a new iOS 9.3 beta software for its iOS devices, giving developers a glimpse into the new features that will soon be available. Public beta will be up for download for all who signed up for it. The iOS 9.3 beta is one of the biggest updates to iOS 9 as of now, and brings along with it a number of really cool features.
Improved 3D Touch
The latest update to the OS will bring with it advanced 3D Touch capabilities. Advancements to the way users interact with their Apple device will be seen such as the use of pressure commands. New 'Quick Shortcuts' for the App store, Compass, Health, iTunes Store and Weather are going to be seen,
App Switcher
iOS 9.3 includes haptic feedback when using the Force Touch app switcher on an iPhone 6s or 6s Plus. "Peek" feedback is provided when first opening the app switcher, and a full "Pop" feedback is given when pressing further to open it fully.
Night Shift
This is a new feature designed to decrease the amount of blue light an iOS user is exposed to at night. Night Shift allows for the OS to shift to more yellow tones for the iPhone or iPad's display. Apparently this shift will help the user, be more comfortable while reading in the dark, and result in a more peaceful sleep at night. Thank you Apple for caring so much.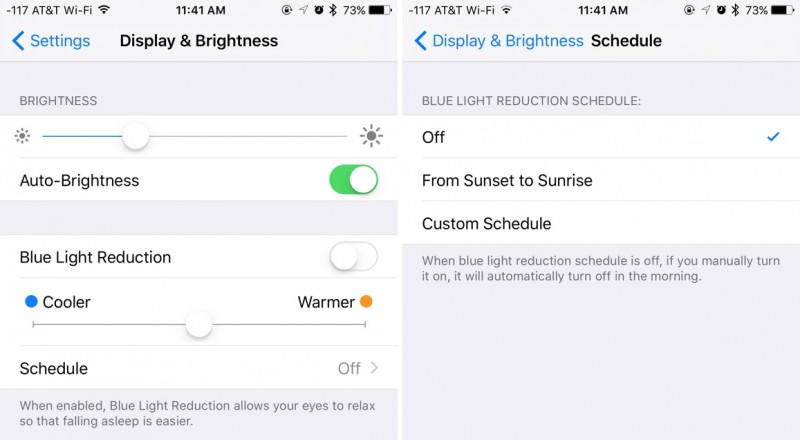 News
Improvements have been made to the news app in iOS 9.3 to make it more specific to each person's interests. A new For You section will also incorporate trending topics and specific picks from Apple editors to help users discover conetent. Other new features include a new landscape view for News on the iPhone, in-line video playback for videos in news stories. According to Apple faster content updating when opening the news app will also be noticed.
Health
iOS 9.3 will include third-party app recommendations in the Health app, where users will also be able to see move, exercise, stand, and goal data from a paired Apple Watch. Health will highlight apps for example tracking weight.
CarPlay
CarPlay apps have been updated to bring them in line with iOS apps on iOS 9. The Apple Music CarPlay app now include a new For You sections to help the user with music discovery. A new Nearby feature is also added to maps to offer information about what's close-by tailored for the user.
Education
iOS 9.3 will bring with it several Education-oriented features such as feature of shared iPads for students, a new Classroom app, an Apple School Manager, and improved Apple ID management features. Sharing of iPads is a particularly interesting feature which is picked up from android, and as such could be seen soon in use for more than just the Education app.
Apple Watch
Alongside iOS 9.3, Apple also released the watchOS 2.2 beta to developers around the world. With both these updates installed the iPhone will be able to pair with more than one Apple Watch at a time.
Live Photos
iOS 9.3 will also see the iPhone 6s get a brand new option to save a full resolution photo from a Live Photo. Users can do this while using Share Sheet, choosing "Duplicate". it will now gives an option to create a Still Photo duplicate of a Live Photo.
Notes
The Notes app has a minor update to it. iOS 9.3 will see the Notes app get finger-print unlocking ability. This is expected to make using the the must have app more convenient.